hand blended chai, healthy and no added sugar
The Chai Room create premium traditional masala chai and chai blends for home and hospitality, and we have since 2010. We deliver Australia-wide and specialise in tea and spice mixes to promote health, convenient to prepare at home as well as tasting delicious. As a business steeped in family tradition, we've lived a life in chai and our expertise ensures every blend enhances wellbeing, to be enjoyed with family and friends… each cup like a warm hug.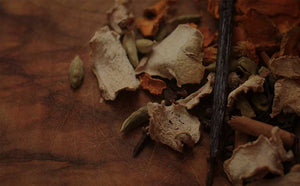 got a question about our chai?
Kind words from our customers..
★★★★★

Just received my first box of mixed Chai and we absolutely love it! Fast delivery, beautiful presentation, but most importantly delicious Chai in so many flavours. Thanks guys. another order coming soon.

Doron Milner
★★★★★

My favourite is the lemon myrtle chai. This chai is rich, full of flavour and fragrance and is a delight to drink. Often. The on line ordering was easy and delivery super fast. I'm thinking Christmas presents now - matching people with the best chai recipe. Congratulations Fatema. A+++ product.

Kerry Keogh
★★★★★

Amazing sample box from The Chai Room - all the flavours are delicious. Makes my afternoon cuppa a beautiful ritual now! Thanks so much, will purchase again in the future

Emma Hunting
★★★★★

Delicious blends, fabulous quality. I'm totally in love with the turmeric and raw honey sticky chai mix, it's just perfect. The customer service when ordering online is top notch too.

Rachael Frazer
★★★★★

Beautifully presented products. Tastes delicious and many unique blend options are available. Great way to support a local business. Makes for a lovely present.

Nandeeta Maharaj
★★★★★

I took part in a wonderful tasting event with the chai room and dessert plate . It was wonderful and the products were fabulous! I am pretty fussy with hot drinks and always looking for something other than hot choc ! The chai flavours strawberry gum leaf and turmeric snd coconut wow ! Delicious !

Julie Ross-Edwards
★★★★★

The beautiful Lemon Myrtle chai makes my ritual morning cup of tea extra special. Its aroma creates instant uplift - it's like a traditional Christmas flavoured by the Australia bush - and the flavour is both refreshing and comforting, lovely both hot and icy cold! It arrived gorgeously packaged and with a handwritten note from its creator - always a lovely thing to receive.

Kate Dass